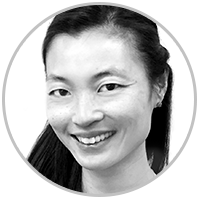 Gigi Kwok-Hinsley
Registered Dietitian
Staff Writer
Gigi Kwok-Hinsley, DrPH, M.S., R.D., is a Registered Dietitian with a Doctorate in Public Health in the Greater Los Angeles area specializing in nutrition and public health research with experience in adult weight management, school nutrition and health and wellness. Dr. Kwok-Hinsley completed her doctorate in public health at Loma Linda University School of Public Health with an emphasis in preventive care and health care management. She conducted research in bitter taste sensitivity as it relates to a patient's risk of developing type 2 diabetes. Outside of work and school, she is actively involved in the Academy of Nutrition and Dietetics.
An avid runner and ball hockey player, Gigi also holds a deep understanding of the relationship between evidence-based nutrition and sports performance. With 7 marathons under her belt, Gigi qualified for the Boston Marathon in 2015.
In the past, Gigi held positions in clinical nutrition research at the Veteran Affairs Hospital – West Los Angeles and Kaiser Permanente in health education. She is also an adjunct professor at Mount San Antonio Community College in Los Angeles.
Beside working and running, Gigi enjoys cooking and baking for friends and family.
Gigi holds a Bachelor's Degree from the University of California, San Diego and received her dietetics training from the Coordinated Dietetics Program at California State University, Los Angeles.