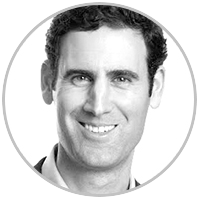 Jonathan Alpert
Psychotherapist
Author
Jonathan Alpert is a licensed psychotherapist, executive coach, columnist, and author of the book,
BE FEARLESS: Change Your Life in 28 Days
. His book is published in the US, the UK, Germany, Brazil, Portugal, Spain, Japan, China, and Taiwan. He is also one of the media's favorite sources for no-nonsense advice, quotes, and commentary.
His insight is regularly tapped by major national and international media outlets, including television, newspapers, magazines, radio, and online. He has appeared on such nationally televised shows as TODAY, Good Morning America, CNN, FOX News, and NBC Nightly News.
Alpert appeared in the 2010 Oscar winning documentary "Inside Job," where he commented on the psychological underpinnings of the 2008 financial crisis. He is also a regular contributor on
Huffington Post
.
As a therapist, he counsels everyone from corporate executives to professional entertainers to the general public. His style of therapy leads to astonishing results and many of Alpert's clients see improvements by the end of the first session while most graduate from therapy within just a few months.